Billy is a 212 year old Loo-Lord who travels time and space in a portaloo. Known to his enemies as "Doctor Poo", Billy fights creatures from across the cosmos, with help from friends such as his brother Chris or his old mentor, Joe. But his mysterious race, the Loo-Lords have changed things. Billy must become a Time-Lord and then make the final stand against evil - but what could it be?
Continuity
Edit
There are a couple of links to other fan-films in Treacy's series. An unreleased American doctor who spoof series known as Doctor Spoof is given a mention in the series three finale. The finale is also a crossover between Doctor Poo and Doctor Who: The 11th Regeneration, in which Jaime Carroll turns up playing the 11th Doctor, with Paul Kay appearing as Agent Lance Hayden.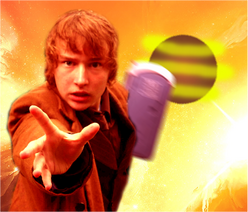 Billy treacy as Doctor poo (right)
Production
Edit
Work on series one began in the Christmas of 2005. Since then, Billy Treacy and the cast have worked almost non-stop to keep the series running.
All three series are awaiting release on DVD.
The entire third series shall be released onto YouTube, in ten minute episodes every week.
The entire series ends with the series three finale.
Doctor Poo - Billy Treacy
Also Starring - Chris Treacy
Matt Meacham-Roberts
Sebby Treacy
Joe Morrice
The Doctor - Jaime Carroll
Productions
Edit
http://www.freewebs.com/nimrod7
Ad blocker interference detected!
Wikia is a free-to-use site that makes money from advertising. We have a modified experience for viewers using ad blockers

Wikia is not accessible if you've made further modifications. Remove the custom ad blocker rule(s) and the page will load as expected.