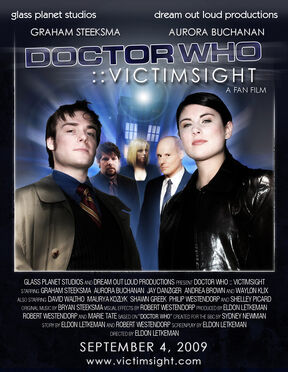 Victimight is a new fan Film Production. The film is now available on the official website.
Synopisis
Edit
The Doctor has landed on Earth on a typical day when he is suddenly thrown into a conspiracy involving murder and intrigue. An old enemy resurfaces as the Doctor, with the help of a new friend, tries to figure out how to escape his unusual prison and prove his innocence.
Andrea Brown
Aurora Buchanan
David Waltho
Eldon Letkeman
Graham Steeksma
Jay Danziger
Maurya Kozlyk
Philip Westendorp
Shawn Greek
Shelley Picard
Waylon Klix
Original Music by Bryan Steeksma
Visual effects by Robert Westendorp
Produced by Eldon Letkeman, Robert Westendorp and Marie Tate
Based on "Doctor Who" created for the BBC by Sydney Newman
Story by Eldon Letkeman and Robert Westendorp
Screenplay by Eldon Letkeman
Directed by Eldon Letkeman
Ad blocker interference detected!
Wikia is a free-to-use site that makes money from advertising. We have a modified experience for viewers using ad blockers

Wikia is not accessible if you've made further modifications. Remove the custom ad blocker rule(s) and the page will load as expected.