James norman

Home era:

possibly 21st century

Doctors travelled with :

11th doctor 12th doctor

apprences :

11th doctor - ????-???? 12th Doctor-Born again

Actor :

DMCDW

James norman is a 27 year old russain man who meets the 11th doctor after his flat in new york is attacked by giant cockroches! not alot is known about this compaion execept that he used to run a mob and was in great debt to the croach king who was infact an alien and shot dead by James with his SPAS-12 Style Shotgun.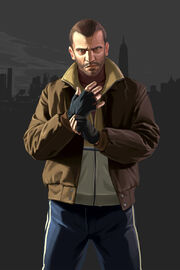 Day Old Facial Hair
Leather Bomber Jacket
Blue Track Pants
Fleece Jacket
Fingerless Gloves
Grey Zip Up
Ribbed Mock Turtleneck
In born again his jacket is badly ripped and one off his gloves have gone, his track bottoms are also rippied and one leg looks like ripped sorts while the other more 3 quarter lenghths.
Behind the scenes Edit
James is slightly based on GTA 4s Niko Bellic mainly the clothes and voice also the mob side of him
James may return in a  new doctor who audio starring 12th doctor
Ad blocker interference detected!
Wikia is a free-to-use site that makes money from advertising. We have a modified experience for viewers using ad blockers

Wikia is not accessible if you've made further modifications. Remove the custom ad blocker rule(s) and the page will load as expected.