'
Doctor:
Companions:
Writer:
Producer:
Release Date:
Running Time:
A Cyberman is alone in the Dark in a room in place unknown to him. But hiding in the dark is a stranger, a stranger who knows about the past of the cyberman. But who is this stranger... and what does he want?
Continuity
Edit
This is the first Doctor Who audio with Daniel Saunders as the Doctor.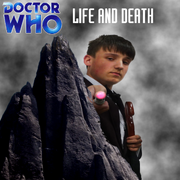 Production
Edit
info
The Doctor - Daniel Saunders
Cybermen - Daniel Saunders
Edited by Daniel Saunders
Production Notes
Edit
misc
to be added
ditto
Ad blocker interference detected!
Wikia is a free-to-use site that makes money from advertising. We have a modified experience for viewers using ad blockers

Wikia is not accessible if you've made further modifications. Remove the custom ad blocker rule(s) and the page will load as expected.