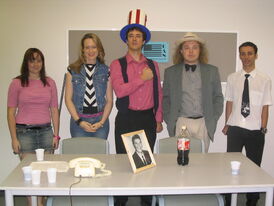 Project MacSinister
Project Mac Sinister is a Fifth Professor story shot in January 2005. Set in 1987, The Professor finds some sinister dealings when he arrives in Melbourne by mistake, involving a strange person known as 'Americ-Man'. Americ-man plans to Americanify Australians by brain washing the youth via Vanilla Coke. The Professor must combat this evil villain before it is too late!
9A - Project MacSinister

| | |
| --- | --- |
| Production Code | 9A |
| Professor | Fifth |
| Featuring | Joel Reicher (Professor), Kelly Windle, Jo Dempsey, Emile Fernandez & Sean Fabri |
| Filmed | January 2005, Melbourne city, Footscray & Blackburn North |
| Length | 1 episode, 25 mins approx |
| Chronology | unknown |
Ad blocker interference detected!
Wikia is a free-to-use site that makes money from advertising. We have a modified experience for viewers using ad blockers

Wikia is not accessible if you've made further modifications. Remove the custom ad blocker rule(s) and the page will load as expected.