Rise of the Silurians is a story in series one of Haemovore.123's books. The Doctor and Jamie meet a scientist called Mason. Together, they fight the Silurians.
Rise of the Silurians

Statis:

Postponed

Doctor:

Fifteenth Doctor

Companion:

Jamie

Enemy:

Silurians, Predators

Setting:

1998

Writer:

Haemovore.123
In a raining village at eleven pm, the Doctor leaves his companion Jamie in the TARDIS for 'two minutes'. The Doctor meets Mason Fairway who is a scientist wanting answers about an odd blood sample, the next morning the Doctor goes to Mason's house to tell him that he already scanned it through the night meaning Mason wouldn't have to wait for his friend to do it later. The blood was found on the ground in the village a few nights ago, then kept in a lab. It is not human, but still from Earth. It is from a Predator, which is a guard dog used by the Silurians but twice times bigger (for more info, see Predator). Inside Mason's house, the Doctor later remembers leaving Jamie in the TARDIS for nine hours rather then 'two minutes'. They find that Jamie has gone looking for the Doctor. Jamie is captured by the Silurians and taken underground!
Silurians
Edit
In this story, the Silurians use Predator's as guards and the Silurians are also kidnapping people, this time they plan to take back the Earth.
One Silurian is called Mithok.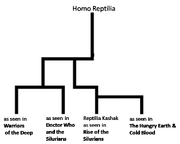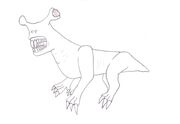 Ad blocker interference detected!
Wikia is a free-to-use site that makes money from advertising. We have a modified experience for viewers using ad blockers

Wikia is not accessible if you've made further modifications. Remove the custom ad blocker rule(s) and the page will load as expected.