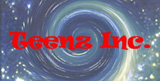 Teenz Inc. was formed in Chelmsford, Essex, UK from 2003.
The production company was formed by Christopher Thomson and brother, Scott Thomson. Later it was run by Chris alone until its closure. After its closure of and also the closure of L.F. Films, Christopher Thomson and Nicholas Miles united to create Apeiron Productions.
Productions
Edit
Although trying to keep original in films they produced, they were consistantly intrigued in making Doctor Who fan films. Beginning with The Scott Thomson Series before moving onto The Christopher Thomson Series and after a two year gap, recently releasing a seperate feature length fan film entitled The Final Adventure. Besides video, there are a few audio dramas.
Ad blocker interference detected!
Wikia is a free-to-use site that makes money from advertising. We have a modified experience for viewers using ad blockers

Wikia is not accessible if you've made further modifications. Remove the custom ad blocker rule(s) and the page will load as expected.