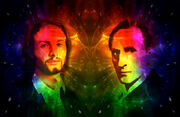 The Doctor Who Project (TDWP)
is the multiple award winning Canadian Doctor Who fiction series based on the long-running BBC science-fiction television series "Doctor Who". TDWP centers on the continuing adventures of an alternate Doctor and his companions. Stories are published as part of an overall season that concentrates on delivering a collection of short stories that sees the Doctor facing new and original situations in time and space.
Beginning in 1999, with it's own eighth incarnation of The Doctor in a Season 27 omnibus to follow on from the original BBC series, it has produced over ten seasons of stories.
Ad blocker interference detected!
Wikia is a free-to-use site that makes money from advertising. We have a modified experience for viewers using ad blockers

Wikia is not accessible if you've made further modifications. Remove the custom ad blocker rule(s) and the page will load as expected.