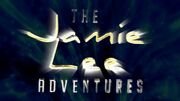 A Who TV Productions - Doctor Who SpinoffEdit
==
The Jamie Lee Adventures (pilot)

Category of Show

Spin Off

Release Date

Friday 19th November 2010

Written by

Charlie Rose

Budget

N/A (Charity)
==
The Jamie Lee Adventures. (based as a 'parallel universe' version of The Sarah Jane Adventures, also a spinoff to Who TV's Doctor Who features)
The Initial Idea of the series was created for a one-off special episode in promotion for the BBC Children in Need Appeal 2010 (November 19th, 2010).
With the whole crew of Who TV, along with actors Daniel Neal and Melanie Crawford, plus with a special helping hand from Sarah Jane Adventures composers, Sam and Dan Watts, it is proving to be a very special story.
to be added (not yet broadcast)
Continuity
Edit
In the promotional trailer, a Slitheen from Doctor Who / SJA is featured.
Mr Smith (from SJA) is also appearing in this special.
All music has been composed by original SJA composers Sam and Dan Watts.
Production
Edit
Production began on Friday 12th November 2010 (One week before broadcast - a very tight schedule)
DANIEL NEAL - Jamie
MELANIE CRAWFORD - *****
ALAN NUNN - Himself
Camera - Charlie Rose
Composers - Sam & Dan Watts
Production Notes
Edit
misc
to be added
ditto
Ad blocker interference detected!
Wikia is a free-to-use site that makes money from advertising. We have a modified experience for viewers using ad blockers

Wikia is not accessible if you've made further modifications. Remove the custom ad blocker rule(s) and the page will load as expected.